The Synology DS224+ NAS – Coming Soon!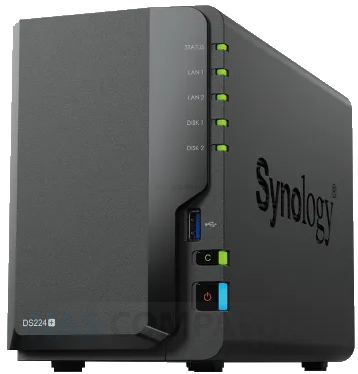 Synology has really been churning out the DiskStation releases this year, with a number of their popular DiskStation NAS devices all seeing a modern refresh to a greater or lesser degree. The Synology DS224+ is the update of the three-year-old DS220+ NAS, arriving in a similar framework as its predecessor. Although arguably featuring very small updates in Synology's 2024 refresh, it does boast an improved CPU, which will result in greater performance on Synology's award-winning DSM platform. The DS224+ is likely one of the last Synology home and SMB solutions we will see refreshed this year, as Synology clearly begins to set its sights on some of its larger and more centrally business-focused solutions in the 2024 range. I am not going to sugarcoat it, the DS224+ is by no means a significant upgrade over its predecessor and for some, it's not going to seem like much has changed in the three years between these releases. However, we are still seeing a setup here that the brand has rigorously invested time and development into, which likely means you are getting a superior experience that is more felt than seen compared with its predecessor. Let's discuss the new Synology DS224+ and help you decide whether it deserves your data.
Synology DS224+ NAS Hardware Specifications
When I mentioned earlier that the Synology DS224+ is utilizing a similar hardware architecture to its predecessor, I was not joking. In terms of hardware, those who are already familiar with the DS220+ are going to struggle to see many differences here. We're seeing the use of the same external chassis, same memory amount and scalability, nearly identical ports and connections, and overall, what seems like small tweaks and realignments of Synology's portfolio here. The main focus has to be the new CPU inside the Synology DS224+, which is the already frequently featured Intel Celeron J4125 processor. This quad-core, four-thread, integrated graphics-equipped processor was already a popular choice in other releases such as the Synology DS920+ and DS720+, as well as in more recent releases such as the DS423+ and DVA1622. It is a decent little processor that balances a good price point versus great capabilities and is one that Synology has spent a lot of time optimizing in DSM.
Synology Model
Synology DS224+ NAS

CPU Model

Intel Celeron J4125

CPU Architecture

64-bit

CPU Frequency

4-core 2.0 (base) / 2.7 (burst) GHz

Hardware Encryption Engine (AES-NI)

Yes

Memory
System Memory

2 GB DDR4 non-ECC

Total Memory Slots

1

Maximum Memory Capacity

6 GB (2 GB + 4 GB)

Storage
Drive Bays

4

M.2 Drive Slots

No

Hot Swappable Drive*

Yes

External Ports
Rear
RJ-45 1GbE LAN Port*

2 (with Link Aggregation / Failover support)

USB 3.2 Gen 1 Port*

2

USB Copy

Yes

File System
Internal Drives
Btrfs
EXT4
Appearance
Size (Height x Width x Depth)

165 mm x 108 mm x 232.2 mm

Weight

1.31kg

Others
System Fan

92 mm x 92 mm x 1 pcs

Power Supply Unit / Adapter

60 W
However, there's no avoiding that this 2019 released processor has now been featured in Synology systems for four years and although what we are seeing here is a prosumer processor now being made available in the lower home tier (not the first time Synology has done this with their portfolio between generations), there is still going to be a percentage of users who will be disappointed that some of the several newer Intel Celeron releases were not featured here. Indeed, with more affordable Intel Pentium processors like the N6005 and Intel Celeron N5105 extremely commonplace from other competitor brands, this CPU is definitely going to seem like something of a damp squib when people are weighing up the hardware. Synology has always been a brand that has been unashamedly software-focused and the hardware has simply been a case of finding the most power-efficient hardware to achieve its lofty goals, but nevertheless, users who have been holding out for a newer generation to buy may find the hardware just a little bit underwhelming.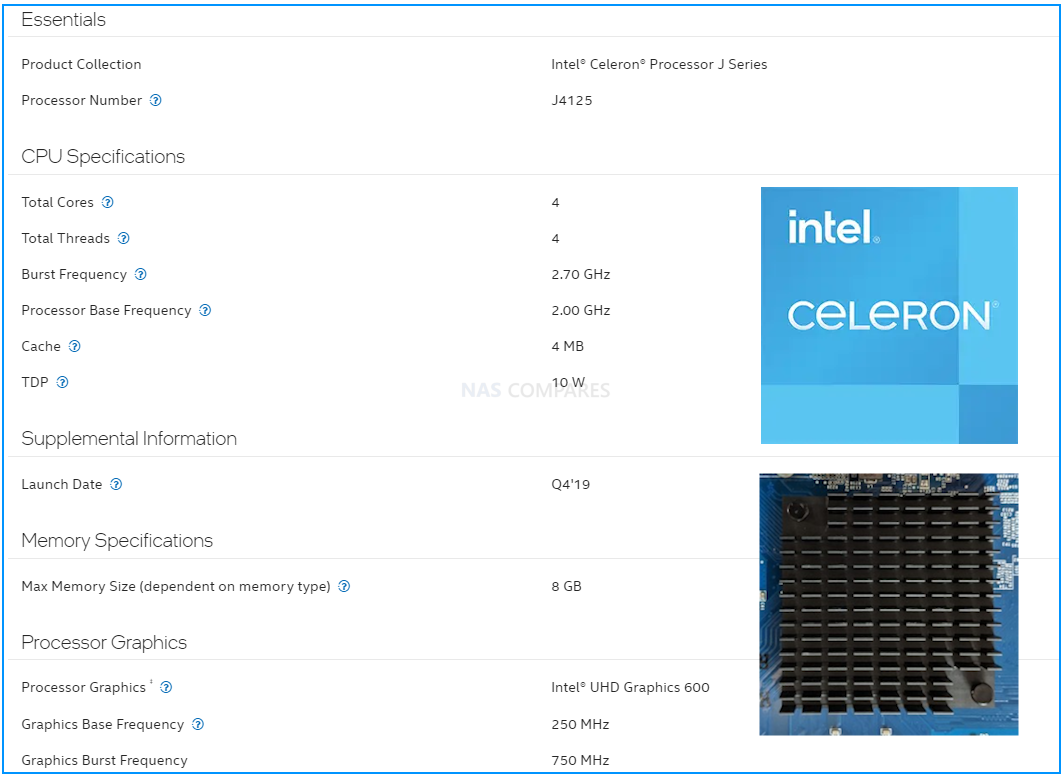 In terms of memory, the system arrives with 2GB of DDR4 memory already pre-installed and soldered to the board. This can be upgraded to a slightly unusual 6 GB of memory by installing an official DDR4 Synology SODIMM upgrade. On the one hand, it's nice that you can upgrade the memory on this device to allow you to do more things at any given time. However, having 2GB fixed inside the system and only allowing a single upgrade slot results in a system only supporting 6 GB when the CPU inside the DS224+ actually supports up to a maximum 8GB. For users looking at utilizing containers, virtual machines, or a combination of the two, it's a real shame to miss out on this extra 2 GB of memory. Nevertheless, this has been fairly standard as the baseline hardware for the DS 2xx+ series prior to this point and it's not a tremendous surprise. Synology has always been in the habit of carefully curating their portfolio and therefore it is no surprise that the more scalable DS723+, released towards the end of 2022, costs more but can do more.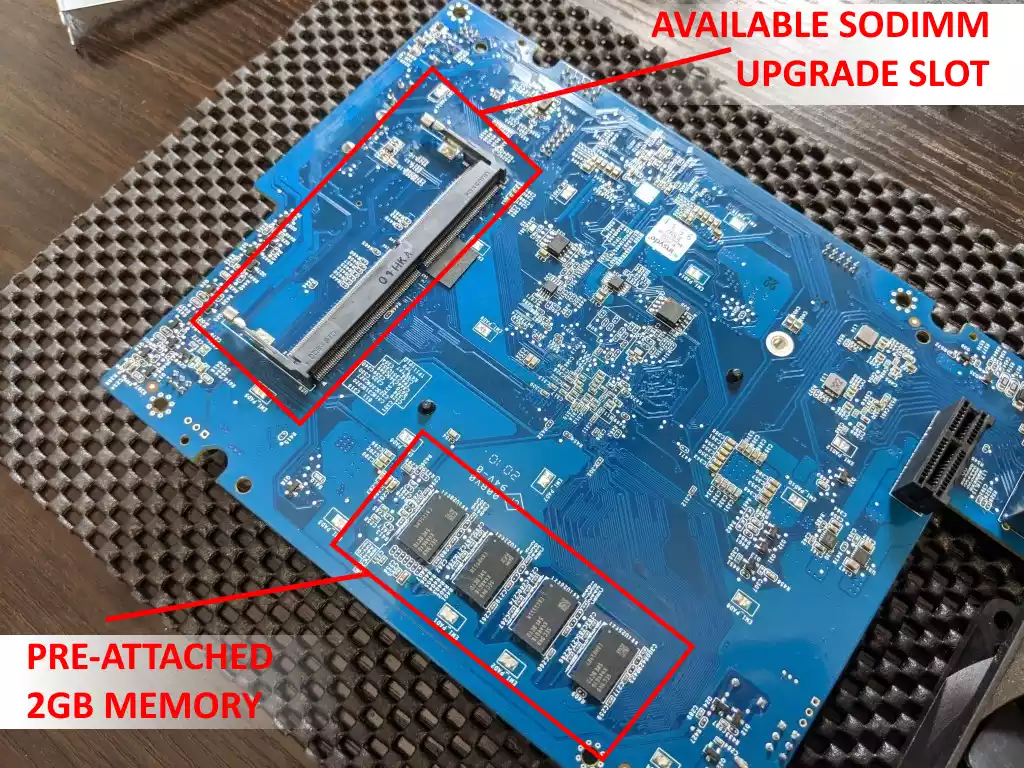 The rest of the ports and connections on the Synology DS224+ are all fairly predictable. We have USB 3.2 Gen 1 5Gb connectivity and two Gigabit Ethernet ports. All fairly standard stuff and as mentioned, Synology is not particularly keen on scaling up the hardware on their systems as much as they are on the software. The lack of any expandability via an eSATA support and the Synology 5-bay Expansion DX517 is not a tremendous surprise, and something that long-term storage users may want to keep in mind. But ultimately, with the exception of the change in CPU, there is not a huge amount on offer here overall. An improvement within DSM 7.2, but it might just be worth sticking it out until the morning.
Synology DS224+ NAS Software Specifications
While most Synology systems roll out with identical software, it is the hardware that the system arrives with that largely dictates the full range of applications and services that the system supports, as well as the number of concurrent users and applications that can run at any given time. In the case of the Synology DS224+ NAS, the system runs pretty much everything in the DSM 7.2 catalog. Indeed, barring any particularly complex processes running at the same time that would be too hungry for the base 2GB memory, there is practically nothing on offer from Synology in their DSM platform that is not possible on this device.
Now, there is ALOT we already know about this processor with regard to the more popular applications that people would consider the DS224+ for, as we have tested it for well over 3-4 years in the DS920+ and more. Its performance in DSM is fantastic (with full access to all the applications and services that you would expect), Plex Media Server performs very well in both 1080p and 4K (supporting client-side HEVC conversions and more), upto 40 cameras in the Synology Surveillance station applications (though you will need more than that base 2GB memory) and if the price point is comparable/lower than the DS2200+ is at launch – the DS224+ an absolute bargain for that purpose!
Synology DS224+ NAS HDD/SSD Compatibility
Those who have been following Synology for the last 18 to 24 months will be surprised to hear that the likely hard drive and SSD compatibility list for the Synology DS224+ is going to be fuller than some of their enterprise and access series devices, but is still likely less populated than some of their previous generation devices. The compatibility list will of course include their own standard class+ series hard drives, the HAT3300 range, but also include several Western Digital and Seagate drives to choose from too. These drives are a bit light on the capacity side of things and arguably, there are quite a few omissions in the list of drives on offer, but the Synology verification process takes time and while it could be very easy for Synology to add every single SATA drive in existence as compatible with their systems, they would still need to certify that these drives are truly 100% verified and compatible.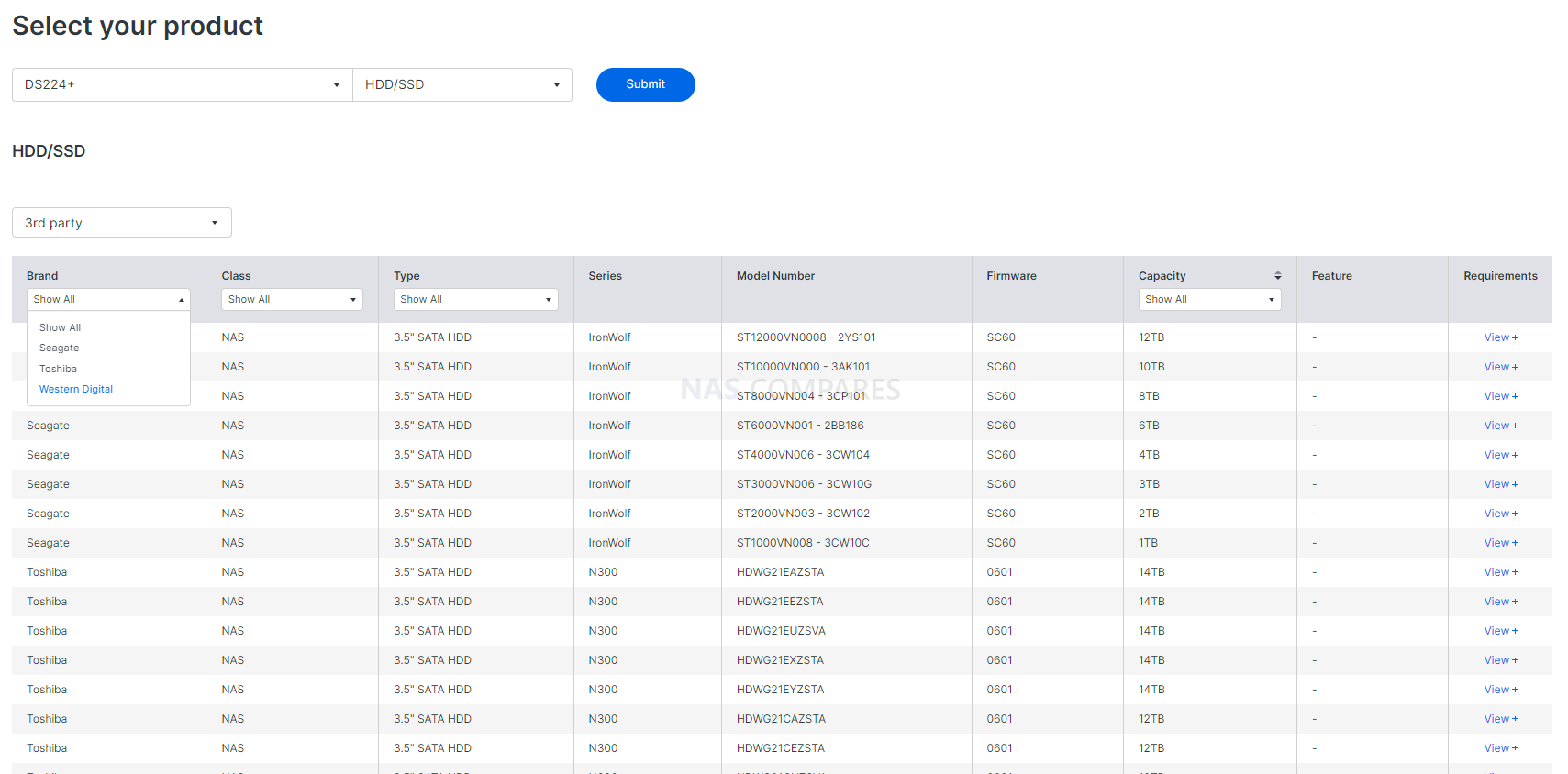 This is something that Synology has clearly decided they are not prepared to just click 'accept all' on. So, at least for now, we have to give Synology the benefit of the doubt when it comes to the list of supported storage media on the DS224+ as they may well be adding more drives over time, post official launch. Equally, it would have been very easy for them to add their own enterprise-grade drives, the HAT5300 range, but they didn't, as they have deemed that this system should only really be using standard class drives and not the noisier, heavier, and more power-consuming enterprise drives. So, I will give them credit for not ignoring lots of other drives while including their own enterprise-grade drives.
Synology DS224+ vs DS220+ NAS Comparison
Unfortunately, we do have to make comparisons here between the DS224+ and the now 3 years older Synology DS220+, as some users may have skipped that previous generation in order to wait out for something better. Likewise, there is still a contingent of Synology users who were disappointed when the first wave of new Synology+ series devices arrived with non-integrated graphics AMD Ryzen processors inside, deciding to wait out for a new mid-range device like the DS224+. As mentioned earlier, the DS220+ and DS224+ are incredibly similar in almost every way and it is really only that CPU upgrade that bears any kind of difference between them. Now, some would argue that this CPU, having already appeared on the Synology DS720+ from 2020, does not really serve as much of an upgrade on this new 2023 system. It is worth highlighting that, whereas the older generation device is a dual-core processor, this newer generation device is a quad-core – though at a slightly lower burst clock speed.
Hardware Specifications

CPU

Synology Model

Synology DS220+ NAS

Synology DS224+ NAS

Diskstation Chassis

Check Amazon

$309 (Amazon 05/07/23)

$TBC

CPU Model

Intel Celeron J4025

Intel Celeron J4125

CPU Benchmark

CPU Quantity

1

1

CPU Architecture

64-bit

64-bit

CPU Frequency

2-core 2.0 (base) / 2.9 (burst) GHz

4-core 2.0 (base) / 2.7 (burst) GHz

Hardware Encryption Engine (AES-NI)

Yes

Yes

Memory

System Memory

2 GB DDR4 non-ECC

2 GB DDR4 non-ECC

Total Memory Slots

1

1

Maximum Memory Capacity

6 GB (2 GB + 4 GB)

6 GB (2 GB + 4 GB)

Storage

Drive Bays

2

2

M.2 Drive Slots

No

No

Hot Swappable Drive*

Yes

Yes

External Ports

Ports

RJ-45 1GbE LAN Port*

2 (with Link Aggregation / Failover support)

2 (with Link Aggregation / Failover support)

USB 3.2 Gen 1 Port*

2

2

USB Copy

Yes

Yes

File System

Internal Drives

Appearance

Size (Height x Width x Depth)

165 mm x 108 mm x 232.2 mm

165 mm x 108 mm x 232.2 mm

Weight

1.30 kg

1.31kg

Others

System Fan

92 mm x 92 mm x 1 pcs

92 mm x 92 mm x 1 pcs

Power Supply Unit / Adapter

60 W

60 W

Warranty

2-year hardware warranty, extendable to 4 years with Extended Warranty+

2-year hardware warranty, extendable to 4 years with Extended Warranty+
In the grand scheme of things, this is still a better CPU with an ever-so-slightly larger power consumption, but hardly serves as much of an incentive for existing DS220+ owners to refresh to the newer model. Likewise, unless you are a particularly graphics-intensive or conversion-hungry multimedia user, I would argue that the DS223+ does a good job of making the DS723+ a more attractive NAS – despite its more business focus. Ultimately, on the one hand, Synology has clearly spent a great deal of time with this particular hardware architecture and can therefore make the most of it in DSM, as well as the system arriving at a lower price point than the similar DS720+ that arrived with this hardware a few years ago. But nevertheless, this is still a very safe, middling, and minor upgrade over its predecessor.
Synology DS224+ NAS Price and Release Date
The release of the Synology DS224+ is coming up soon by the looks of things (likely late July/Early August) and it also seems like it is going to arrive at largely a comparatively price point to its predecessor of around $300 to 350 (Don't forget to factor in your local tax and shipping). You can use the links below to check stock, availability, and pricing for the DS224+. Using these links results in a small fee being earned by me and Eddie here at NAScompares.com. It's just us here and this allows us to keep doing what we do. Thanks for reading and have a great week.
LET ME KNOW ABOUT NEW POSTS
Enter your email address to subscribe to this blog and receive notifications of new posts by email.
Join 1,704 other subscribers

Get an alert every time something gets added to this specific article!



Want to follow specific category?

Subscribe
This description contains links to Amazon. These links will take you to some of the products mentioned in today's content. As an Amazon Associate, I earn from qualifying purchases. Visit the NASCompares Deal Finder to find the best place to buy this device in your region, based on Service, Support and Reputation - Just Search for your NAS Drive in the Box Below
Need Advice on Data Storage from an Expert?
We want to keep the free advice on NASCompares FREE for as long as we can. Since this service started back in Jan '18, We have helped hundreds of users every month solve their storage woes, but we can only continue to do this with your support. So please do choose to buy at Amazon US and Amazon UK on the articles when buying to provide advert revenue support or to donate/support the site below.

Finally, for free advice about your setup, just leave a message in the comments below here at NASCompares.com and we will get back to you.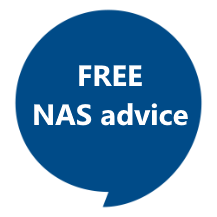 Need Help? Where possible (and where appropriate) please provide as much information about your requirements, as then I can arrange the best answer and solution to your needs. Do not worry about your e-mail address being required, it will NOT be used in a mailing list and will NOT be used in any way other than to respond to your enquiry. [contact-form-7]
TRY CHAT
Support What We Do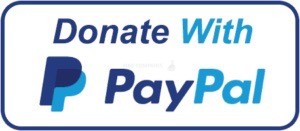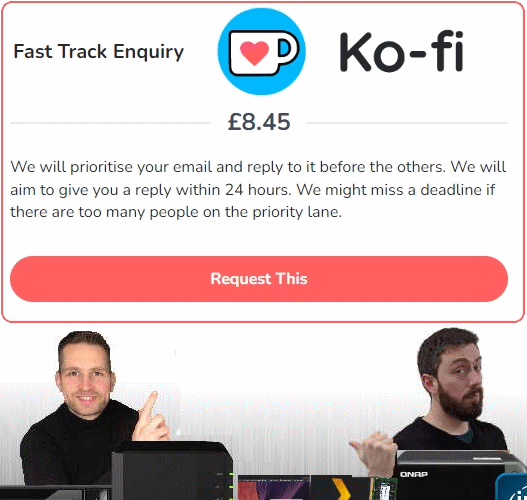 Terms and Conditions Alternatively, why not ask me on the ASK NASCompares forum, by clicking the button below. This is a community hub that serves as a place that I can answer your question, chew the fat, share new release information and even get corrections posted. I will always get around to answering ALL queries, but as a one-man operation, I cannot promise speed! So by sharing your query in the ASK NASCompares section below, you can get a better range of solutions and suggestions, alongside my own.